Watch Video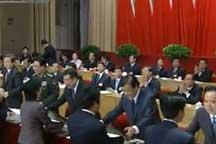 Play Video
Emergency services, public security personnel and volunteers involved in rescue and relief efforts after the Yushu earthquake have been honored. China's Vice Premier Hui Liangyu wanted to personally thank them at a ceremony in northwest China's Qinghai Province.
These are the brave people who rushed into Yushu after the earthquake hit.
Now, they are being honored as heroes and outstanding Chinese citizens.
Four months ago, a 7.1-magnitude earthquake struck Yushu. More than 2,200 people were killed. The prefecture was flattened.
In the immediate aftermath - troops, medical staff, and volunteers worked desperately to rescue those buried under the debris.
The decision to honor these first responders was made by the Central Committee of the Communist Party of China, the State Council and the Central Military Commission.
Vice Premier Hui Liangyu spoke to them at a ceremony. He also outlined the government's priorities in reconstruction efforts.
Chinese vice-premier Hui Liangyu said, "The main reconstruction work should be completed in three years. That means much better living conditions for the people, enhanced ecological and environmental protection of three rivers, significant economic improvement in the quake hit area and a more unified and harmonious society. Local residents will have new homes, with a better ecological environment and improved infrastructure."
The Vice Premier says by the end of this year, the construction of houses for local farmers and herdsmen will be completed and most construction projects for urban residents will have started.
Reconstruction of educational, cultural and healthcare facilities and transport infrastructure will also be well underway.
Editor:Zhang Ning |Source: CNTV