Watch Video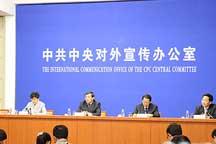 Play Video
Reforms aiming to strengthen Chinese culture have seen steady progress since the start of the reform and opening up process. The Information Communication Office of the CPC Central Committee held a press conference to highlight the progress.
>>Press conference full video: China boosts cultural development
China has pushed forward the institutional transfer of public undertakings to enterprises.
Authorities hope this will add vitality and market competitiveness to the cultural institutions.
Jiang Jianguo, deputy director of State Admin. of News And Publication, said, "We are cultivating public service bodies, carrying out a series of projects which benefit the general public. And we try to make full use of the function of the public service system of news and publication industries. At the same time, a large group of non-profit publication organizations are experiencing reform in all aspects. This move is to encourage the system to be more effective and to enhance service ability."
Exploring and creating a new public cultural service plan will help improve the quality and standards of the China's cultural industries. Several projects include expanding radio and television networks across remote areas, sharing cultural information resources, and showing movies and setting up bookstores in villages.
Zhao Shi, vice minister of State Administration of Radio, Film And Television,said, "The State Council values the cultural establishment of the villages. A special fund of 8.67 billion yuan has been invested to help the villages expand their radio and television networks. All kinds of modern technology have been used, including wireless coverage, wire transmission and satellites. By the end of this year, 710 thousand villages around the country will accomplish the goal."
The new drive behind reforms is providing the general public with a more prosperous cultural market and products.
And through the steady progress of the reforms, China's cultural industry will see healthy development.
Editor:Zhang Ning |Source: CNTV