Watch Video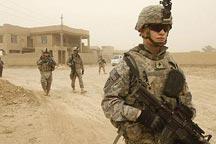 Play Video
More than seven years after a US-led invasion toppled Saddam Hussein, the last US battle troops have left Iraq. But will the end of the combat mission set the country on a path to greater peace and prosperity, or throw it back into the bloodshed and chaos?
Just one day before the last US combat troops left Iraq, tragedy struck Baghdad.
A suicide bomber blew himself up amidst hundreds of army recruits who had gathered near a military headquarters.
Mohammed Jasim, Eyewitness, said, "More than 60 people were killed. What crime have those people committed? It is the government's mistake. They're unable to protect such people."
The deadly strike is an embarrassment to Iraqi security forces.
It casts doubts on their ability to protect themselves, and their nation, just before 50,000 US troops head home.
It has been seven years since the war began in 2003.
The US-led coalition toppled Saddam Hussein, and then began to stamp out his supporters.
The resulting resentment fueled years of conflict.
The violence reached a peak in 2006 and 2007, pushing the country to the brink of anarchy.
Civilians appear to be the biggest victims.
Years of turbulence have shattered the nation's economy.
At least 18 percent of the population remains unemployed, and twice as many people are underemployed.
Iraq has the world's second-largest proven oil reserves, but production capacity is far below pre-war levels.
The government hopes more petrodollars can be used for nation building.
After three decades of wars, sanctions, and ethnic conflicts, the dawn of a new era may be on the horizon.
Analysts say the trauma burned into people's hearts runs deep, and the cure is freedom.
Editor:Zhang Pengfei |Source: CNTV.CN