Watch Video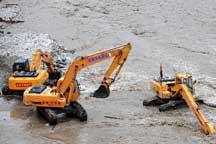 Play Video
Work to dredge the blocked Bailong River in Zhouqu County is making progress. Army engineers are approaching the highest points of built up debris under the barrier lake's surface.
Wu Guoru, Engineer of Hydropower HQ of People's Armed Police, said, "This is the most difficult part of the dredging work. The water flows rather rapidly. Every meter you move forward, you need to pave large amount of rocks and trucks of sand and mud."
The soldiers are approaching the barrier lake slowly, having arrived at about 30 meters away from the barricade. An 8-meter deep mudslide deposit is blocking the Bailong River. Over two thousand people and nearly a hundred bulldozers and excavators are working around the clock along the river bank. Clearing work has decreased the water level of the blocked section of the barrier lake.
Editor:Zhang Jingya |Source: CNTV.cn