Watch Video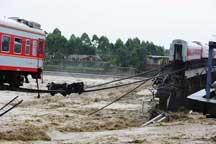 Play Video
What are the chances of surviving when your train is derailed from a bridge? Add to the danger are floods below. James Kim looks at how thousands of passengers escaped death.
As if floods weren't enough, Sichuan province also saw this massive train wreck.
But the nightmare had a happy ending, thanks to the immediate response of the crew.
The operator became aware of the danger just before reaching the Shitingjiang Bridge in Guanghan.
The train operator Cao Jimin said, "The train started to shake seriously when it was approaching the Shitingjiang Bridge. It was quite unusual. The rattling was different."
A passenger said, "The train first paused for a second, and then rattled seriously. None of us could keep our balance. We could feel that the train was falling."
Other passenger said, "I just felt the train was going off the track. I was very scared."
The engineer responded immediately. Despite the train's high speed, it was able to stop safely.
Cao said, "The emergency break was quite effective, and the train stopped within 300 meters. If it had failed, the train would have rattled more seriously and finally fallen into the river."
The attendants asked all passengers to move to both the end of the train.
Train attendant Xu Ying said, "I repeatedly urged the passengers to immediately evacuate to the front and rear carriages of the train."
Previous emergency drills and training proved to be effective.
Wang Qiaofen, Head of train crew, said, "When the emergency occurred, we were responsible for different parts of the train, helping passengers to evacuate safely."
Some nearby villagers also came to help, bringing tools to break the windows of the train.
All the passengers were evacuated within 20 minutes, along with their personal belongings.
The train was travelling from Xi'an, in Northwest China's Shaanxi Province to Kunming, in Southwest China's Yunnan Province. For its 13-hundred passenger, it's a ride they'll never forget.
Related stories
Editor:Zhang Jingya |Source: CNTV.cn