Watch Video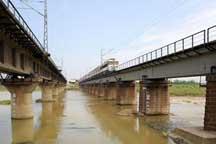 Play Video
Services have resumed after floods destroyed a section of a bridge on the Baocheng Railway Line in Sichuan Province. Overall, train operations have barely been affected and no passengers are stranded at stations along the line.
The Bao-cheng railway line links Chengdu, capital of Sichuan in Southwest China and Baoji of Shaanxi in Northwest China.
On Thursday, floods destroyed a bridge near the town of Guang-han in Sichuan.
After the accident, the railway station in Shaanxi's capital Xian, three south-bound trains on the line were delayed.
A passenger in Xi'an Railway Station said, "My train was scheduled at 8 p.m., but now it's delayed. We haven't been informed yet when the train will depart."
After half an hour of delays, passengers began to check in.
But the railway station explained that the delay was normal as the 8 to 11 p.m. rush period had just started. It assured passengers that the rail line had not been affected by flood waters .
They promised to issue an updated running schedule every hour.
Wang Lili, Head of Xi'an Railway Station, said, "We have tightened contact with the control center. We'll give notice to the passengers as soon as we get the latest information."
The floods in Sichuan only briefly affected the rail's southbound service. All north-bound trains are running on schedule. The transporting of relief goods to disaster zones in flood hit areas has not been affected.
Related stories
Editor:Zhang Jingya |Source: CNTV.cn