Watch Video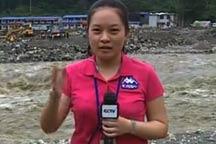 Play Video
For more information on the Sichuan rainstorms, we're joined by our reporter Gui Xiaozeng who is in Yingxiu town.
Q1. Hi, Xiaozeng. We know that reinforcing embankments and clearing barriers are high priorities. How is the work going so far?
Q2. It seems that Yingxiu has gotten some relief from the rain. But what measures will be taken to prevent further landslides if it rains again in the coming days?
Editor:Xiong Qu |Source: CNTV.CN