Watch Video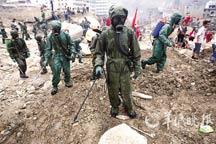 Play Video
After rainstorms hit Sichuan Province, preventing an outbreak of diseases has become the priority of local governments. Health workers are scrambling to ensure high levels of sanitation in the disaster zone.
With no useable roads, health workers travel on foot for hours daily, bringing equipment to the disaster zone in Yinxiu county.
They spray disinfectants everywhere, to protect victims and rescue workers alike from diseases.
Huang Yong, one health worker said "Even though We are very tired, our wish is to do our best to prevent the infectious disease from spreading as soon as possible."
Officials from the Health Ministry said ensuring the safety of drinking water will go a long way in preventing an epidemic outbreak.
In order to contain waterborne diseases, staff from the Mianzhu Disease Control Center came to Sanjiang Village, to test drinking water.
Doctors are also disinfecting drinking water every two days.
One villager of Sanjiang Village said "Because of the disinfection of drinking water, we don't suffer from diarrhea."
Meanwhile,the local government has also increased it posting of health information to the public, to ensure people take precautions against diseases and other illnesses.
Editor:Xiong Qu |Source: CNTV.CN