Watch Video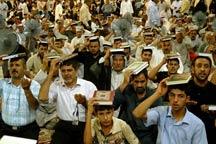 Play Video
Ramadan activities in Iraq are going ahead as planned, despite the deteriorating security situation. Local residents are spending their days shopping for breakfast items, and enjoying a few hours in markets and public places at night.
Ramadan is a holy month for all Muslims around the world, because of its special significance to the Quran.
Muslims fast for a month by avoiding food and drink from sunrise to sunset.
During Ramadan, Iraqis buy items such as vegetables, meat, soft drinks, and sweets on a daily basis to prepare a healthy breakfast after long hours of fasting.
In addition, people try for a greater variety of dishes at the breakfast table than usual. But as demand often goes up for certain items during this time, so do the prices.
One local resident of Baghdad said "This year Ramadan, is different from previous years, though there are still high temperatures and high prices for food. I would like to say 'God Help The Fasters'."
One local resident of Baghdad said "The prices for tomatoes and potatoes are very high. This is Ramadan, a month for goodness when the prices should drop. But they are rising instead."
Intense summer temperatures make fasting even more difficult. Fasting in Iraq requires a lot of liquids at breakfast.
Compromised public services and especially the lack of a secure source of electricity are factors that compound the difficulties of fasting.
One local resident of Baghdad said "This year Ramadan is very hot. Power often cuts out at breakfast time. Sometimes there is no electricity for 24 hours. When the local generator starts, they give us the state electricity. It's like a psychological war that has no meaning."
The security situation is another factor that impacts people fasting in Iraq.
Security violations occur frequently and make daily excursions much more difficult.
People hope this month will pass peacefully.
One local resident of Baghdad said "Ramadan is a holy month for everyone. May God accept our fasting, and I hope that all the families are safe throughout our beloved Iraq."
Away from worries and grievances, families gather in public parks after breakfast and the evening meal. Here, groups of men play a unique game called "Mehaibis," where a ring is hidden in the hand of a player, and the other team tries to find it."
Visiting the homes of others to share a breakfast meal is also an important feature of Ramadan in Iraq. Despite the daily problems of life in the country, people see the activities of Ramadan as a way to ensure the continuity of life.
Editor:Xiong Qu |Source: CNTV.CN