Watch Video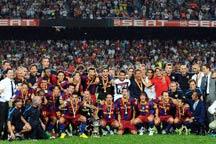 Play Video
In Spain Sevilla seemed to be in the drivers' seat for the Spanish Super Cup after winning the first leg 3-1 against Barcelona. But the nine-time cup champs would write a different ending at the Nou Camp, behind brilliant striker Lionel Messi.
Barca manager Pep Guardiola had only four of his World Cup-winning Spanish internationals in the starting line-up for the second leg, and Sevilla defender Abdoulay Konko gave the home side a head start after just twelve minutes. Konko turned Pedro's cross into his own net. Barcelona leads the match 1-0.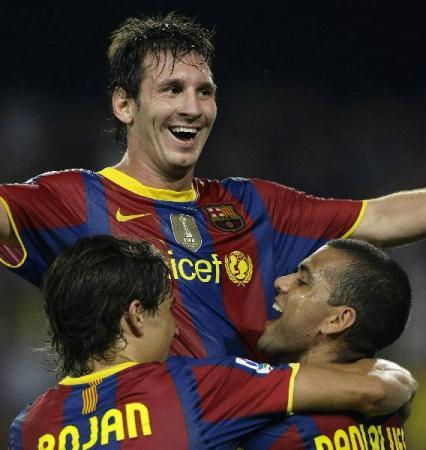 Barcelona's Lionel Messi (top) celebrates his goal with Bojan Krkic (L)
and Dani Alves during their Spanish Super Cup second leg soccer match
against Sevilla in Barcelona August 21, 2010.(Xinhua/Reuters Photo)
Then, Messi turned on the magic at 24 minutes. The Argentine international latched onto Xavi's pass to put Barca ahead in the tie on the away goals rule.
And the hosts added to the lead before halftime. This time Pedro provided the assist. Messi came up with another great finish. Sevilla was down, but needed just one goal to level the tie overall.
Instead, the home side put the icing on the cake behind substitutes David Villa and Andres Iniesta. They both played roles in the final goal as Messi completed a brilliant hat-trick. Barca wins the match 4-0, and beats Sevilla 5-3 overall. Club captain Carles Puyol took the trophy as Barcelona wins the Super Cup for a ninth time.