Watch Video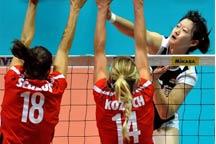 Play Video
At the Hong Kong Stage of the Women's Volleyball World Grand Prix, China beat Germany 3-0 for their second consecutive win. Heavy cannon Wang Yimei bombed 18 points against her opposition.
In contrast to the slowly heated form they had displayed last time out against Thailand, China started strongly and Wei Qiuyu's serve won an immediate point. Wang Yimei and Xue Min's power knock soon got the Chinese girls ahead 6-0. China shone at both the ends of offense and defense.
Wang Yimei not only had full-strength serves and power shots, but also such deft light touch that she proccessed with delicacy. Every point Wang gained would arouse a wave of cries from the crowd. Xue Ming and Ma Yuwen on the other hand were the footstone of the Chinese defense. Their duo blocking forced the German opponents out of contention.
However, China were not completely ruling the roost as Germany found their form in the third set, catching up and taking the lead. Wang Yimei stood out again at the key moment. First she served to reach the match point, and then another of her serve failed the German's first pass before Xue Ming landed the ball over the net. China won it 3-0.
Editor:Xiong Qu |Source: CNTV.CN