Watch Video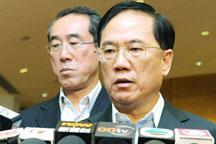 Play Video
Families of the bus hijacking victims have been flown to Manila on an aircraft chartered by the Hong Kong SAR government. Public anger is mounting in the city over the way the hostage taking was handled.
The Hong Kong flag has been lowered at half staff outside government buildings to mourn the dead from the hostage taking. Hong Kong Chief Executive Donald Tseng called on his senior officials to call off unnecessary activities to mourn the dead. And the SAR has issued a Black Outbound Travel Alert for the Philippines, warning of a severe travel threat.
Victims' relatives arrived in Manila on Tuesday morning, accompanied by medics, social welfare workers, police and immigration representatives.
The hostage drama ended in bloodshed on Monday, with at least nine tourists dead. Hong Kong Chief Executive Donald Tsang calls it "a major tragedy".
Donald Tseng, Hong Kong Chief Executive, said, "This is a major tragedy, disappointing that Hong Kong residents trying to make a pleasure trip to Manila, ended up with death and casualties. This is very tragic, and the way that it is handled, but particularly the outcome, I find that this is disappointing."
He extended deep condolences to the families of those killed and injured, saying his government would provide everything needed to help them.
The rescue operation took about an hour as the commandos struggled repeatedly to storm the bus, after gunshots were heard from inside the vehicle.
The slowness of the rescue operation has provoked demands from the Hong Kong government for an explanation, and for more training and equipment for the Philippine police.
Related stories