Watch Video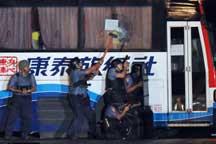 Play Video
Philippines police say they faced strategic problems in saving the hostages during the recent bus hijacking. In the end, nine people, included eight Hong Kong tourists, were killed.
The police shot the hijacker dead after several failed attempts to board the bus and gain control of the situation. During the ordeal several hostages died and others were seriously injured.
Philippine Interior Secretary Jessie Robredo, who is in charge of the national police, acknowledges problems in their response. He says the tragedy might not have happened if police were better prepared, equipped and trained.
A special investigation team has been established.
Agrimero Cruz, Philippine Police Spokesman, said, "The BCIMT is composed of Victorian staff officers and they will investigate the past perform dysfunctions."
They will try to answer questions regarding police training and preparation, whether the rescue plan was defective and did the police negotiate properly with the hijacker.
An independent committee will also be set up by the Philippine Department of Internal Affairs and Department of Justice to keep the investigation neutral and fair.
Related stories
Editor:Zhang Pengfei |Source: CNTV.CN