Watch Video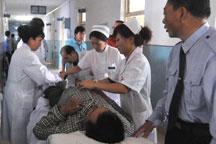 Play Video
A plane carrying more than 90 passengers and crew has crashed at the Yichun City airport in China's northeastern province of Heilongjiang. The flight was en route from the provincial capital Harbin. At least 42 people are dead.
At fog-shrouded Lindu airport in Yichun City crews are finishing the search for victims and shifting the focus to clearing away the wreckage.
China's Civil Aviation Administration says the Henan Airlines plane overshot the runway while landing at Yichun airport at 9:36 Tuesday night. The flight originated in the provincial Capital, Harbin.
There were 96 people on board, including five crew members.
The jet reportedly broke into two pieces approaching the runway. Some passengers were thrown out of the cabin before the jet crashed.
Some witnesses say a huge blaze enveloped the wreckage after the crash. The blaze was put out before dawn.
Fifty-three passengers survived and are in hospital.
Doctors say they are mostly suffering from trauma and fractures.
The Secretary of the CPC Yichun Committee, Xun Zhaojun, says the list of casualties will soon be ready and the bodies will be moved to the city's funeral home where families can identify their loved ones.
Vice Premier Zhang Dejiang arrived at the site early Wednesday to deal with the aftermath of the accident and lead an investigation into the cause.
A 20 member team of CAAC officials and technicians are being sent to Yichun to investigate the cause of the crash.
Henan Airlines had only recently started operating flights between Harbin and Yichun. The airline's service linking the two cities began two weeks ago.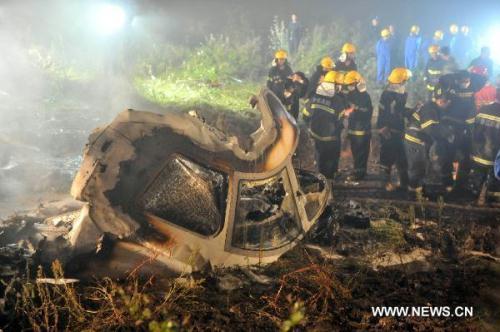 Rescuers search for survivors at the site where a passenger plane crashed in
Yichun City, northeast China's Heilongjiang Province, early on Aug. 25, 2010. A
passenger plane with 96 people on board crashed late Tuesday night the Yichun
airport. At least 42 people were confirmed dead while the remaining 54 have been
rescued and sent to hospitals. (Xinhua Photo)