Watch Video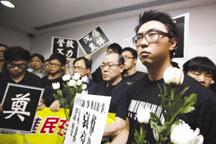 Play Video
The day-long hostage crisis in Manila ended with eight tourists from Hong Kong dead.
Two hours after the hijacking, the gunman Rolando Mendoza agreed to release some of the hostages.
Mrs. Zeng and her two children were the lucky ones. And when she saw a boy standing nearby, she said he was her relative, and asked for his release.
She managed to get all 3 children out.
Mrs. Zeng walked out the bus and didn't look back.
She would never see her husband alive again, nor would the boy she saved, his parents.
The other hero was the 31-year-old tour guide, Tse Ting Chunn, known as Masa. The ten year-veteran at Hong Thai Travel Service called in the situation to the travel agency. He gave Hong Kong authorities vital information for dealing with the crisis.
TV footage showed him peeking out of the bus during his captivity and later one hand handcuffed to a position near the bus door.
Tse had studied yoga in India and wanted to become an instructor. His Facebook page was flooded with messages of condolences. One friend wrote, "I know you did your best to protect members of your tour group. You were very brave. Rest in peace. I will always miss you."
Related stories
Editor:Zhang Jingya |Source: CNTV.cn