Watch Video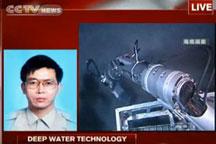 Play Video
Background: Chinese submersible dives 3,700 meters
China has reached an ambitious target, in developing its deep sea submersible technology. The domestically designed and manufactured "Jiaolong" submersible has completed a successful trial operation, diving to depths of 3,700 meters, and working underwater for over 9 hours. Full Story>>
For more insight on deep water monitoring technology, we are now joined on the phone, by Cui Weicheng, the first deputy chief designer of the project.
What is deep water monitoring tech?
1: Hello, Mr Cui. China has become one of the few countries to produce deep water monitoring devices. Can you explain in more detail, what this technology is and what it's used for?
Significance of deep water diving
2: We know that China's deep water device the " Jiaolong" has dived up to 3,700 meters under the South China Sea. It's expected that it will be able to reach depths of up to 5,000 and 7,000 meters in the near future. What's the significance of manned deep water diving?
Editor:Zhang Jingya |Source: CNTV