Watch Video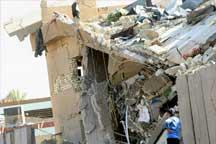 Play Video
A string of coordinated attacks targeting Iraq's local government and police forces have left 64 people dead. More than two hundred and seventy have been wounded.
Wednesday... a bloody day for Iraq...
Bombers and gunmen killed 64 Iraqis in two dozens of attacks across the country Wednesday. The attacks mostly targeted security forces. At least half of those killed were Iraqi soldiers and policemen.
The attacks came just a day after the US military in Iraq cut its strength to under 50,000 for the first time since the start of the war.
In Baghdad, 15 people were killed and 58 wounded when a suicide bomber rammed his explosive-laden car into the entrance of a police station.
The deadliest attack fell on Kut, 160 kilometers southeast of Baghdad. A suicide bomber blew up a car inside a security barrier between a police station and the provincial government headquarters. Police and hospital officials say at least 23 people were killed and 86 people were wounded.
The U.S. military in Iraq has called the attacks "desperate attempts" to undermine faith in the Iraqi security forces and a sign that al Qaeda is
trying to reestablish itself after suffering many setbacks.
US officials feared widespread violence would rise as Iraq's March 7th elections failed to produce a clear winner.
Editor:Du Xiaodan |Source: CNTV