Watch Video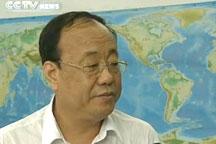 Play Video
Examining the deep sea has always been the aim of scientific exploration in the world. The successful trial of the "Jiaolong" submersible will help Chinese scientists develop their deep sea submersible technology bringing more knowledge with it.
Thousands of meters deep down in the sea, the magma dissolves the minerals under the sea, forming what scientists call the "The black chimney".
The sea water near it has a temperature of thousands of degrees Celsius with great toxicity.
Many deep-sea creatures live in these extreme conditions, and those bizarre creatures and phenomenon are scientists' main research targets.
Wang Fei, Head of China Ocean Association, said, "It is extremely difficult to obtain these samples. Only with high-precision equipment can we find them and do the research work."
Meanwhile, the large quantities of minerals are also their research target.
In 2001, China had the right of exploration in certain mineral areas in the Pacific Ocean. The area covers more than 75,000 square kilometers, amounting to the area of the Bohai Sea.
Compared with other countries, China's research into the deep sea began a little later. Although it has held deep sea investigations many times in the past, the lack of equipment hinders scientists' efforts.
Wang said, "The manned deep water submersible will exert an influence which other equipment can't do. It will mark a brand new stage for China's exploration of the deep sea."
The manned deep water submersible is just like a small research center, allowing scientists to take the samples they need and carry out research work.
Related stories
Editor:Zhang Jingya |Source: CNTV