Watch Video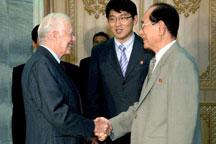 Play Video
Former U.S. President Jimmy Carter has left Pyongyang after securing the release of a US man detained in the Democratic People's Republic of Korea since January.
Carter and Aijalon Mahli Gomes boarded a plane and left the country on Friday.
The former president talked with DPRK Vice Foreign Minister Kim Kye-gwan for about five minutes at the airport before leaving the country.
Carter arrived on Wednesday in Pyongyang on a mission to bring home an Boston man jailed after illegally entering the country.
During the trip Carter met with the President of Presidium of the DPRK Supreme People's Assembly, Kim Yong Nam.
In advance of his visit, the DPRK had agreed to release him to Carter if the ex-president made the journey to Pyongyang.
US officials billed Carter's trip as a private humanitarian visit to negotiate the release of Gomes. The American was sentenced to eight years of hard labor for entering the country illegally from China.
Related stories