Watch Video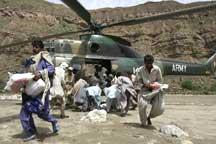 Play Video
Aircraft are the only lifeline for flood victims in towns and villages cut off by floods, ferrying aid to isolated areas across Pakistan.
Captain Mohammed Shahid and his co-pilot, Major Aamer Masood, along with their crew of three engineers have spent more than six-hundred hours in the air since the crisis began.
They will continue to fly up to seven hours each day as long as flood victims need their help. They are proud to have rescued 16-hundred people and delivered 100-thousand kilograms of food aid.
On Thursday, aid was delivered for the first time to remote villages in the Baluchistan border areas with the Punjab. The United Nations said earlier this week that some eight-hundred thousand people are still cut off by the floods and accessible only by air.
Major Aamer Masood, Pakistan Army Aviation, said, "You cannot differentiate between a sea and a river at that time. So it was a very difficult mission. We daily have to fly six/seven hours every day and everywhere we find that people are in need of rescue relief and all such kind of effort."
Editor:Zhang Pengfei |Source: CNTV.CN