Watch Video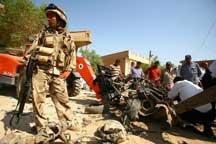 Play Video
In Iraq, terrorist groups are proving they are still capable of conducting high-profile attacks on civilians and security forces.
The absence of a functioning government is one of the factors behind the deterioration in security, and citizens are worried about the future of the country under this precarious situation.
Synchronizing with the ongoing American forces withdrawal from Iraq, violence returns vitally. 13 attacks in Baghdad and 6 other governorates mainly targeted army checkpoints and police forces. More than 250 were killed and injured. The worst of those attacks targeted police station in Cairo neighborhood northern Baghdad. 4 houses were completely destroyed in this accident.
Victim's Mother, said, At 8 in the morning, a pick-up car type Kia pulled over, and while the people are fasting and sleeping, the car detonated, every house has at least 3 families which at least lost 5-6 people. Why the government is not doing anything?, families are getting killed and the government is silent.
Recently, spokesman of the American forces Gen. Steven Lanza stressed: the Iraqi security forces are qualified to take control of the security situation, but after this bloody day, the citizens lost trust in the ability and capability of the Iraqi security forces.
Iraqi Citizen, said, There is no security in Iraq, the army soldier and policemen are getting killed in the streets, there is no guarantee for the safety of the citizen, because the politicians are only busy fighting on posts.
The observers set aside the idea of relating the security deterioration to the withdrawal of the American forces, saying: in order to deter these attacks the politicians must speed up the formation of the new government.
Riadh Abdul Qadir, Political Analyst, said, The constitutional and political emptiness which is caused by fights and mismatch among the political blocs is one of the important reasons which is possibly feeding and lodging the terrorist groups.
If the security situation is worsened, it is possible to redeploy American forces to support the Iraqi forces, but only if the Iraqi government requests that which is included in the security pact between Iraq and the United States.
Baqi Naqed Naji, Baghdad, Iraq, said, It is obvious that the terrorist groups are trying to impact psychologically on the morale of the Iraqi security forces, in order to cause a bigger security gap which will help them conducting their operations.
Related stories
Editor:Zhang Pengfei |Source: CNTV.CN