Watch Video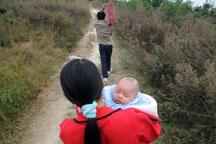 Play Video
Today we continue our special coverage of the huge South-to-North Water Diversion project. And in this second day coverage we focus on the resettlement.
The 62 billion US dollars project involves three routes.
The central route will run from the Danjiangkou Dam, which straddles the provinces of Henan and Hubei. It will provide drinking water to Beijing, Tianjin and over a dozen smaller cities. China started relocating people near the Danjiangkou Dam last year, marking its biggest mass migration since the Three Gorges Dam project.
In total, over 300 thousand people are relocating as part of the project. The government gave the migrants compensation, which they used to buy a new house that was built for them, and gave them a small plot of land to farm. In 2009, about 7 billion US dollars was promised to accelerate 70 new related projects for 2010.
The majority of the investment came from government funds and bank loans, of which 72 percent will be used to relocate affected communities and acquire land.
Related stories
Editor:Zhang Jingya |Source: CNTV