Watch Video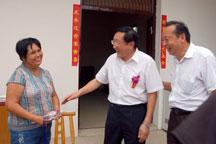 Play Video
Local government officials and residents of a village in Central China's Hubei Province are helping their new neighbors settle in. They are welcoming new people who have been relocated from communities near the Dan-jiang-kou reservoir, one of the key projects in the South-to-North Water Diversion project.
58-year-old Li Caixue is a farmer from Yunxian County, which will be submerged by the expansion of the Danjiangkou reservoir. He and his family were relocated to Touhao village in Huchang Township. Before they moved in this brand-new two-storey house, life in the mountainous Yunxian County had been difficult.
Li Caixue, farmer, relocated from Yunxian County, said, "We used to live in a bungalow. Road conditions were bad, and we had to fetch water from a well quite far away. The farmland was also much less fertile in the mountainous area than on the plain here."
The living conditions in the new residence are much better. Local government has invested more than 1.4 million yuan to introduce running water into each household. Biogas and liquefied natural gas have replaced wood for cooking.
Because the new house has electricity, Li Caixue has purchased many home appliances for the first time in his life. Air-conditioners, cooking ventilators, washing machines and television sets have greatly improved Li's life.
At lunch time, some nearby villagers come to visit their neighbors. They've brought homegrown Chinese leeks as a gift for Li Caixue.
Li said, "You see, almost all the dishes on the table are made from raw ingredients brought in by our neighbors, they are really kind to us relocated new comers. We are very grateful."
The villagers are invited to stay and enjoy lunch. For Li Caixue, it is a way of expressing gratitude.
Related stories