Watch Video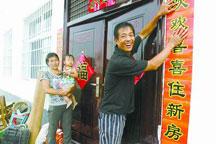 Play Video
It has been 18 years since the first group of people left low-lying areas of Yi Chang, in Hubei Province to make way for the Three Gorges Dam on the upper reaches of the Yangtze River.
Today, construction has finished, but resettlement has not. For those who made the move, many say their lives changed for the better. Chen Guang visited Yichang city next to the Yangtze River to see how the same policy affected two families in different ways.
When we met Zhang Shigang, his family was busy preparing for a new day of business.
Since opening his family restaurant four years ago, the morning is the only time he can spare for what he calls, "family time".
Zhang moved out from a low lying home 11 years ago, when water levels behind the three gorges dam rose to 135 meters.
For the next 7 years he sold oranges in big cities like Beijing and Shanghai.
Unfortunately, his efforts were fruitless.
Zhang Shigang, resettler, said, "Four years ago, the government decided to transform our county into a tourist area. And encouraged resettlers to open tourism related business. The environment around my house, as you can see, is very pretty, so I decided to give it a shot."
Zhang's boldness paid him well. Now, his restaurant earns him a comfortable living.
And that is not all.
500 meters from his restaurant, a highway exit is under construction.
When the project is finished, more visitors are expect in the region.
Zhang Shigang is planning to expand his business.
But he is one of the lucky ones who benefited from the policy.
Just a mile down the river, Han Yulong tells a different story.
Four years ago when CCTV first visited him, Han had just switched profession's from farmer to fisherman.
Before his fish farm began to produce results, the government deciced to develop the tourism industry in the region. His business dreams shattered.
Resettler Hang Yulong said, "I used to farm fish in the Yangze river, but the government's policy to develop green economy left me out of work."
148 thousand people were relocated in Yichang for the Three Gorges Dam Project. Many lost their homes, and jobs. As the land became inundated with water, many old industries were shut down for good.
Chen Guang said, "While government policies benefited many resettlers like Zhang Shigang, they also hurt some like Han Yulong. The question is how to minimize the damages."
For local authorities, fairness is the sole standard in carrying out government policies.
But fairness does not prevent them from thinking in creative ways.
Related stories