Watch Video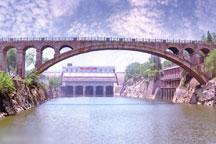 Play Video
China's South-to-North Water Diversion Project will be a multi-decade infrastructure project. It is designed to optimize the use of China's water resources.
The project diverts water from the Yangtze River in three places to meet the development needs of northern China. The Western Route is on the upper reaches, the Middle Route is on the middle reaches, and the Eastern Route, on the lower reaches.
The layout follows China's three topographic terraces. The Western Route will divert water from the headwaters of the Yangtze into the headwaters of the Yellow River. The project crosses the Tibet-Qinghai and Yunnan-Guizhou Plateaus.
Construction on the Eastern Route officially began in 2002, and water is expected to reach the northern port city of Tianjin by 2012. Construction of the Middle Route started in 2004. In 2008, its 307-kilometer northern stretch was completed at a cost of 2 billion US dollars.
Related stories
Editor:Zhang Jingya |Source: CNTV