Watch Video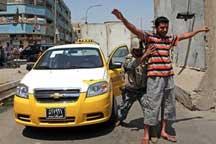 Play Video
Iraq's security has drastically improved over the past two years. Even at night, many are coming out to enjoy the cool summer air. But a recent surge in violence has many thinking about the long term.
Baghdad at night, is bustling with activity, which was almost unheard of just a few years ago.
Before coming into this carnival, Iraqis endure what has become a fact of life.... a strict security check.
The improved situation is even being enjoyed by Iraq's youngest. Playgrounds, animals and other entertainment help the city's residents forget about their turbulent lives.
Markets are also buzzing with activity, thanks in part to low cost products.
Many businessmen take time to wind down.
Even though they welcome the improved security, they say they remain pessimistic about the long term situation.
Much of the pessimism stems from a recent surge in violence.