Watch Video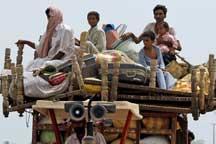 Play Video
In Pakistan, some flood waters have begun to recede. And in the country's southern Sindh province, displaced residents are making the difficult trek home, to find out what remains.
The month-long floods have killed about 15-hundred people. Altogether over 17 million people have been significantly affected and about 1.2 million homes have been destroyed or badly damaged. Wan Chunning has more.
Survivors face going back to houses and even whole towns that have been destroyed. But the desire to return to what is still home remains strong.
However, the journey is not easy.
In the southern Sindh province, many of the main roads linking towns and cities are damaged. With few boats available, the displaced are left with no other option but to travel on foot.
Families are being forced to walk through the flood waters while holding infants, children and belongings high above the water surface.
Mohammad Javed, Returnee, said, "The floodwater entered our area so we migrated to Larkana. Now I am going back home. I have to travel through floodwater. No boat is available here, so we will go through the water. I hope we can get transportation at the next point".
Those who do make it back home are likely to face fields that are destroyed, covered by billions of gallons of brown soupy floodwater.
A long rebuilding process lies ahead. And in the meantime, survivors still face a risk of death from hunger and disease.
Editor:Zhang Pengfei |Source: CNTV.CN