Watch Video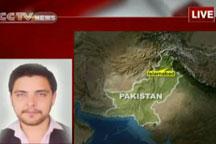 Play Video
For more on the Pakistan floods, our correspondent Danial Khan joins us on the line in Islamabad. Hello, Danial.
Q1: What's the latest on the situation there?
Q2: How is the relief work going? And are the relief materials reaching the victims?
Q3: China has also sent a rescue team to provide medical help to the flood victims. They have been in Pakistan for four days. Could you tell us how their work is going?
Thanks Danial that's our CCTV correspondent Daniel Khan, in Pakistan.
Hundreds of flood victims in Pakistan head home
In Pakistan, some flood waters have begun to recede. And in the country's southern Sindh province, displaced residents are making the difficult trek home, to find out what remains. <Full story>
Editor:Zhang Pengfei |Source: CNTV.CN