Watch Video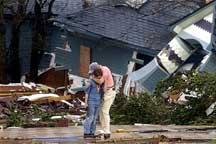 Play Video
Now, Li Xiang gives us some more background on the devastating hurricane.
The third-strongest hurricane ever in the United States made a direct hit on New Orleans, Louisiana on August, 29th, 2005. The category 2 storm flooded 85 percent of the city that is mostly below sea level.
A million people fled the New Orleans area before Katrina arrived, but tens of thousands of others were stranded. They stayed on the rooftops of their inundated houses waiting for help.
The frustrated crowds chanted as they waited for days in the sweltering summer heat for much-needed relief.
New Orleans Resident, said, "This is not about low income, it's not about rich people, poor people, it's about people. Nobody wants to hurt anybody in this city. Nobody wants to hurt these people who have these businesses."
New Orleans Resident, said, "I am making a new shirt for my baby, because I have no clothes, he is all dirty and he's just two months, two months."
The delayed relief and rescue effort became a permanent stain on former US President George W. Bush's legacy.
Two weeks after Katrina made landfall, Bush made a live prime-time address to the nation.
George W. Bush, Former US President, said, "Throughout the area hit by the hurricane, we will do what it takes. We will stay as long as it takes, to help citizens rebuild their communities and their lives."
The road to recovery has not been just a task for New Orleans. Katrina also left a trail of destruction along the Gulf Coast areas of Mississippi and Alabama.
Obama promises to fight "until the job is done" in New Orleans
U.S. President Barack Obama said Sunday in New Orleans his administration is working to restore the city, five years after the devastating Hurricane Katrina made landfall there. <Full story>
Related stories
Editor:Zhang Pengfei |Source: CNTV.CN