Watch Video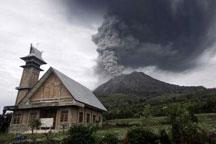 Play Video
Two people have been killed after Mount Sinabung erupted in North Sumatra province of Indonesia. One of them died of a heart attack, and the other of respiratory complications.
Meanwhile, dozens of people have been hospitalized with respiratory complaints related to the presence of ash and dust in the air.
Up to 10-thousand people have been evacuated since last Friday, when the first signs of activity began. Those who fled are staying in government buildings, religious centers and other evacuation sites in two nearby towns.
A government vulcanologist says the eruption caused no major damage and that the minor morning eruption had mostly stopped.
However, it's not clear whether Mount Sinabung will erupt again in the days to come, because it's still spewing out white smoke.
Related stories