Watch Video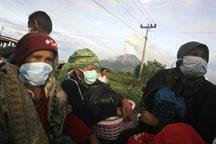 Play Video
A volcano, dormant for four centuries, is erupting in Indonesia. For the second straight day on Monday, clouds of hot ash shot more than several kilometers into the air. 30 thousand people have been forced to flee.
The eruption of Mount Sinabung put the region on the highest alert level, and some domestic flights had to be diverted because of poor visibility.
Food, emergency tents and medicine were sent to the scene. Two deaths have been reported but the National Disaster Management Agency said it was too early to say if the volcano was to blame.
Sinabung last erupted in 1600, and officials acknowledged that they had not been monitoring the volcano because it had been dormant for so long.
A government volcanologist said they would be watching the volcano "closely" from now on, and added that because eruption patterns have not been observed, it was hard to say what to expect.
Editor:Zhang Pengfei |Source: CNTV.CN