Watch Video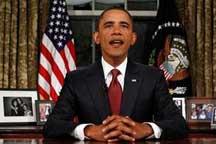 Play Video
US President Barack Obama has declared an end to the seven-and-a-half-year US combat mission in Iraq. Both countries have paid a huge price in the war. And facing the situation, Obama says it's time to turn a new page.
On August 31st at midnight, the US combat mission in Iraq officially came to an end.
President Barack Obama marked the milestone during a televised speech in the Oval Office.
US President Barack Obama said, "Operation Iraqi Freedom is over, and the Iraqi people now have lead responsibility for the security of their country."
After seven-and-a-half years of bloodshed and enormous expense, Obama says it's time to turn the page.
US President Barack Obama said, "Ending this war is not only in Iraq's interest - it is in our own. The United States has paid a huge price to put the future of Iraq in the hands of its people. We have sent our young men and women to make enormous sacrifices in Iraq, and spent vast resources abroad at a time of tight budgets at home.
We have persevered because of a belief we share with the Iraqi people - a belief that out of the ashes of war, a new beginning could be born in this cradle of civilization. Through this remarkable chapter in the history of the United States and Iraq, we have met our responsibility. Now, it is time to turn the page."
When the US launched the invasion in March 2003, the bombing of Baghdad came to be known as shock and awe.
As US forces streamed into the city, it looked like a quick victory.
Two months later, then President George W. Bush prematurely declared "mission accomplished."
The Iraqi War was launched with a preemptive strike over fears of weapons of mass destruction. For the US, it lasted longer than its Civil War and the two World Wars.
Editor:Zhang Ning |Source: CNTV