Watch Video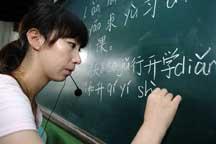 Play Video
Wednesday is the start of the autumn semester in China, with about 220 million primary and middle students going back to campus. It's the first semester since China launched its new wave of education reform. There are still questions as to what the government can do for students. Some say the focus should be on teachers.
Struggling with poverty, getting little support, and seeing their students drop out of school. This is what most rural teachers in China have to deal with. And many are leaving the countryside.
The China Democratic League is at the forefront of improving the quality of education. It believes teachers are the essence of rural schooling.
Li Zhong'an, Vice Chairman, China Democratic League, said, "The rural-urban gap is, to a large extent, the result of education disparity. If rural children lose learning opportunities from the very beginning, they will likely lose other chances, such as opportunities for a good job or a earning a good wage."
The Democratic League is one of the non-Communist Parties in China. It launched the Candle Light Project in 2007 to help nurture rural teachers.
Over the past three years, Candle Light trained more than 70-thousand educators in the countryside. It also helped build more than 60 schools.
Zhang Guangwen is one of the teachers who benefited from the project.
Zhang said, "Money is important. But a school's education quality does not depend solely on its economic conditions. Teachers' professionalism and commitment are just as important. So the Democratic League often sends us to developed areas for training."
More training, higher wages, and a better working environment may provide some incentives for rural teachers.
But it will take more than just teachers to give urban and rural students an equal learning opportunity.
CCTV reporter Wang Mangmang said, "Despite the promise of nine years of compulsory education for all children, Chinese students are having different learning experiences. Fairness in education is a top priority for the country's reform. And one crucial step is to nurture more good teachers."
Editor:Zhang Jingya |Source: CNTV