Watch Video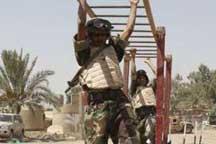 Play Video
The remaining US non-combat troops have a new mandate, "New Dawn". They can accompany Iraqi forces on their missions, but only according to the security agreement between the two countries.
The role of the remaining American forces in Iraq is limited to training, equipping and supervising the Iraqi Forces.
Here the Iraqi forces are being trained on maneuvering, raiding a suspect's house, saving an injured civilian, and then receiving American support to accomplish the mission.
The training factor is the most import, where precision strikes and apprehending targets are being concentrated on.
This is being done under the supervision of the American forces in different yards and shooting ranges.
In the command center of the Iraqi 17th division, there is a helicopter-ground force video terminal. It enables the commanders to have a better view of certain raids.
The center also has a Tower control panel which provides 360 degree video surveillance around the base. Modern metal and explosives detectors enable this division to seize a number of weapons caches from the surrounding areas.
17th Division commander Gen. Ali Jasim Al-Furaiji said, "Today the Iraqi army has major capabilities that the former army did not have. In the past, a military unit may have had one or two armed vehicles. Now each unit has at least 100-150 of those modern vehicles, and that is huge and clear development."
Using robots is one of the modern methods that the Iraqi forces are using to dismantle explosive devices. The technology has saved the lives of several Iraqi forces and civilians.
Editor:Zhang Ning |Source: CNTV