Watch Video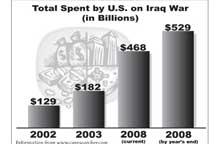 Play Video
The Iraq war has already cost the lives of more than 44-hundred US soldiers, but there is another cost that is not so readily quantifiable: the economic toll. Forecasts of the total cost to the US have reached into the trillions of dollars, fueling a controversy over the impact on the budget and the economy.
The cost to US taxpayers of wars in Iraq and Afghanistan has topped one trillion US dollars since 2001.
The lion's share of the spending -- over two-thirds of the money --has been spent on the conflict in Iraq since 2003.
Estimates of the cost per soldier per year in Iraq vary from 400-thousand to 1-million dollars depending on whether expenditures on troop housing and equipment are included along with pay, food and fuel.
The extended combat and equipment loss have also placed a severe financial strain on the US Army. The military states that nearly 40 percent of the army's total equipment has been to Iraq, with an estimated yearly refurbishment cost of 17 billion dollars.
And recent study indicates that the long term health care costs for wounded veterans could be up to 700 billion dollars.
Economists have stated the total costs of the Iraq War on the US economy will be three trillion dollars, or 10-thousand dollars per US citizen, in a moderate scenario.
And you can't spend 3-trillion on a war abroad and not feel the pain at home.
The spending on other federal programs ranging from health care to environmental protection have been scaled back significantly since the invasion of Iraq.
By the end of the Bush administration, the cost of the wars in Iraq and Afghanistan had added about 1 trillion dollars to the national debt.
With Americans tiring of war and getting more concerned about indebtedness, political pressure is expected to grow for winding down US military operations.
Editor:Zhang Jingya |Source: CNTV