Watch Video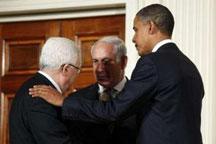 Play Video
In Washington, US President Barack Obama is hosting the first direct Israeli-Palestinian peace talks in two years.
It comes amid fresh violence on the West Bank and a persistent deadlock over Jewish settlements. But, leaders say, they are hopeful of a breakthrough.
Speaking with the leaders of Jordan, Egypt, Israel and the Palestinians, President Obama says he is cautiously hopeful.
Barack Obama, US President, said, "...we must ask, do we have the wisdom and the courage to walk the path of peace?"
In return, each of the leaders answered positively, but with qualifications.
Earlier, Obama had met with each leader individually, to lay the final groundwork for negotiations. The mood appeared upbeat and pleasant as the leaders commenced the talks.
Benjamin Netanyahu, Israeli Prime Minister, said, "President Abbas, you are my partner in peace, and it is up to us, with the help of our friends, to conclude the agonizing conflict between our peoples and to afford them a new beginning."
Mahmoud Abbas, Palestinian President, said, "We will spare no effort, and we'll work diligently and tirelessly to ensure that these negotiations achieve their goals and objectives in dealing with all of the issues - Jerusalem, refugees, settlements, borders, security, water, as well as the release of all our prisoners, in order to achieve peace that the people of our area are looking for."
Both of Israeli and Palestinian leaders spoke hopefully of chances for a breakthrough within the one-year timeframe set by Obama, but they also made plain that their own national interests must be satisfied.
Editor:Zhang Pengfei |Source: CNTV.CN