Watch Video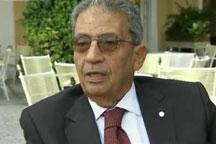 Play Video
Meanwhile, the Israeli President and the Secretary General of the Arab League expressed hope that the resumption of Middle East peace talks will be successful.
Shimon Peres and Amr Moussa were attending an economic and geo-political forum on Thursday in Italy. Both agreed that the settlement issue is key to negotiations.
Shimon Peres, Israeli President, said, "I think the settlements should be agreed, should be part of the agreement, and if the agreement will move quickly we don't have to have a double negotiations, months before and then during. It's a good beginning and I would postpone the issue of the settlement for another couple of weeks, so clearly if you have time you don't have to tackle all the thorny issues."
Amr Moussa, Secretary General of the Arab League, said, "The question of settlements is a key. You cannot build settlements. You know what it means, it means change in the demographic composition of the territories and in the geographical character of the territories that are the subject of negotiations. So if you continue to change, then the duration of the negotiations will be, at the same time, the duration for changing the occupied territories and making the result of negotiations impossible."
Related stories
Editor:Zhang Pengfei |Source: CNTV.CN