Watch Video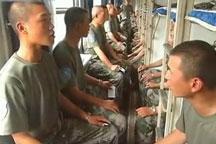 Play Video
Member states of the Shanghai Cooperation Organization are planning joint military exercises in Kazakhstan this month.
And China is sending its troops by train to the Peace Mission 2010. On the five-thousand-kilometer-long journey, officers and soldiers keep busy with daily training and study. Wan Chunning has more.
On the corridors, the room between beds, and every space that can be utilized has become a training area for the soldiers. Every two minutes, they finish 40 push-ups, or 45 sit-ups, or 90 squats. Officers say the everyday training keeps them in good spirits.
Song Yanwu, Minitary Officer, said, "We continue our daily training on the train, so that we can keep our spirits up. When we arrive at the site, we can throw ourselves into the military exercises."
In order to better communicate with foreign troops, the officers and soldiers are hard at work learning Russian. With the help of a handbook, they have picked up words and expressions for everyday use.
Along the way, the train stopped at a railway station. Security personnel from the military troops and railway department carried out a security check, to ensure the safety of the materials and equipment.
A total of six special trains of Chinese troops are heading for the military drill in Kazakhstan. The first unit of the military corps is expected to arrive next Tuesday.
Editor:Zhang Pengfei |Source: CNTV.CN