Watch Video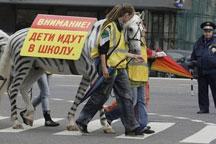 Play Video
Moscow traffic police have deployed a new tool to teach road safety in the Russian capital. On Friday, children, parents and motorists all got a lesson from some unusual tutors.
Several horses and ponies - painted with stripes to look like zebras - were stationed at crossings on major traffic junctions.
The animals carried signs reading: "Attention, children on their way to school!"
Children and their parents were invited to join the animals as officers explained how to safely make it across a zebra crossing.
Anastasia Kryukova, Moscow Resident, said, "This is a very good idea. I wish there were more such actions, because it often happens that parents violate traffic rules when they're in a rush. If there are more of such actions, they will pay more attention to it."
Police said the aim was in part to teach children and their parents how to be road-smart. But they also hoped to alert motorists to give way to pedestrians on zebra crossings, and to remind them that "that they do not own the road.