Watch Video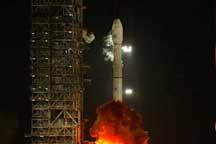 Play Video
Now let's take a closer look at China's newly-launched SinoSat-6, a radio and television broadcast satellite.
The SinoSat-6 is an advanced satellite to serve China's radio and television broadcast operation following the SinoSat-3 and Chinasat-6B. It has a designed lifespan of 15 years and is able to cover the Asia-Pacific Region, including China and its neighboring countries.
The Sinosat-6 is to replace the Sinosat-3 to conduct space broadcast communication and navigation. Compared with Sinosat-3, Sinosat-6 has bigger power and capacity as well as wider coverage.
Yao Fahai, deputy general manager of China Satellite Communications Corporation, said, "China is a huge country with vast territory, and many people living in remote areas cannot receive good broadcast programmes, and Sinosat-6 helps to compensate for what the cable system cannot do. It can transmit more broadcast programmes."
The control and GPS technology of Sinosat-6 satellite has reached advanced world standards. Meanwhile, the successful launch of Sinosat-6 has also enhanced China's ability for the peaceful application of orbital resources.
Yao Fahai said, "It has evolved into the application of national space strategic resources, for national development and strategic significance, it needs to be better applied."
China Satellite Communications Corporation is the only authorized satellite enterprise in China to operate the Sinosat-6. It is currently managing 9 orbital satellites and undertaking the telecommunication transmission of more than 260 TV programmes and 230 radio programmes.
Related stories
Editor:Zhang Ning |Source: CNTV