Watch Video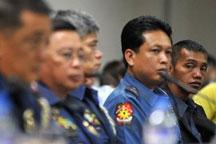 Play Video
The investigation into last month's Manila hostage crisis has revealed some shocking facts about how the Philippine Swat team lacks proper equipment and training for a rapid assault.
When hijacker Rolando Mendoza opened fired on the Hong Kong tourist bus, it took the Philippine SWAT team more than an hour to gain entry.
The SWAT leader says they had trouble breaking in because the windows were too thick.
Apart from proper training, the SWAT team also lacks the right equipment.
SWAT member Simacon says they needed shorter assault rifles to engage in close quarters combat.
They had gone in with long-barreled armalite rifles that date back to the Vietnam War.
Another SWAT member says they were not even sure whether their vests were bullet proof, because those vests did not have steel plates.
Head of Investigation panel: Would you like to have more training?
Alfonso Gameing, SWAT Leader: We add to our training on our own. We train each other, sometimes we shoulder the expenses, just so we can have confidence in ourselves.
They also say they rehearsed their raid about 6 times, before receiving orders to take down the hostage taker.
Philippine National Police Chief Jesus Verzosa has taken responsibility for the botched rescue, and announced his decision to retire early.
Related stories
Editor:Zhang Pengfei |Source: CNTV.CN