Watch Video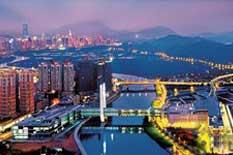 Play Video
Shenzhen, a southern city bordering Hong Kong, is marking its 30th anniversary as China's first special economic zone, or SEZ. President Hu Jintao addressed a celebration rally held in Shenzhen Monday morning.
Hu jintao said Shenzhen has created a seemingly endless string of miracles in the history of modernization, industrialization and urbanization. He praised the city's great contributions towards China's reform and opening up. He also said the mode of the SEZ will not only continue, but improve. The central government will support all the SEZs in the country in the bold experiment to search for all ways to improve the economy and play increasingly important roles.
The past three decades have seen a thriving and prosperous period of great changes in Shenzhen. As a window for China's opening and reform policy, it has grown from a small fishing village with a population of 30,000 to an international metropolis of 10 million. China has 5 other Special Economic Zones - Zhuhai, Shantou, Xiamen, and Hainan. Kashgar of Xinjiang Uyghur Autonomous Region, is the latest SEZ, approved in May of this year.
Editor:Du Xiaodan |Source: CNTV