Watch Video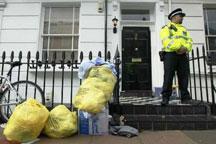 Play Video
Police investigating the death of a man who worked for Britain's Secret Intelligence Service MI6 have found some new clues.
They are trying to trace a couple who had paid a visit to the man's flat about a month before he was found dead. Gui Xiaozeng has the latest.
Detectives have issued closed circuit television footage of MI6 worker, Gareth Williams, a week before he was found dead.
It showed him on shopping trips in the West End and Knightsbridge areas of London. He had returned to Britain shortly before from a holiday in the US.
Williams was found dead by police on August 23rd at his top floor flat in central London, not far from the spy agency's headquarters. There were no signs of any forced entry or disturbance to the flat. Toxicology tests had shown no trace of alcohol or recreational drugs in his body. Nothing was believed to have been stolen from the flat.
Detectives also said they wanted to identify a couple aged between 20 and 30 who had visited the property late on evening in June or July.
Jacqueline Sebire, Chief Inspector of London Metropolitan Police Detective, said, "The other important appeal I'm making today...so they can be eliminated from the enquiry."
Williams was working for MI6, which deals with foreign espionage matters on secondment from the government Communications Headquarters. Forensic and additional tests on his body are continuing. The Foreign Office has made no comment on the death.
Editor:Zhang Pengfei |Source: CNTV.CN