Watch Video
Play Video
Video: Opening ceremony of World Investment Forum>>
The second World Investment Forum has opened Tuesday morning in the coastal city of Xiamen, in East China's Fujian province. Vice President Xi Jinping delivered a keynote speech.
It's a meeting of minds for more than 1,500 participants.
Heads of State, government officials and investment leaders have come to deliberate on the issues associated with the global economic crisis and climate change.
"Investing in Sustainable Development" is the theme of the global forum organized by the UN Conference on Trade and Development.
UNCTAD sevretary-general Supachai Panitchpakdi siad, "In this new phase of globalization- a new generation of investment policies will be needed.Such policies must encourage the transformation towards a low carbon economy,and the need for investment to work for development and the achievement of the MDGs."
In his keynote speech, Vice President Xi Jinping gave the reason UNCTAD says China is the most attractive investment destination in the world.
Chinese Vice president Xi Jinping said, "For foreign enterprises, investing in China has generated handsome returns. Many foreign-invested enterprises here have become the growth engines and profit centers of their parent companies' global business."
The forum runs for four days. On the schedule are high-level contacts and events including a global investment summit and a ministerial-level meeting on investment.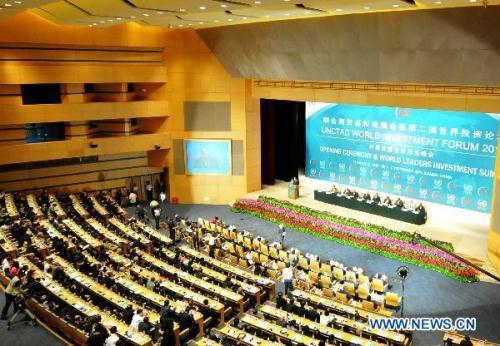 The opening ceremony of the 2nd World Investment Forum, which is sponsored by the
United Nations Conference on Trade and Development (UNCTAD), opens in the coastal
city of Xiamen, southeast China's Fujian Province, Sept. 7, 2010. Chinese
Vice President Xi Jinping delivered a key note speech at the ceremony.
(Xinhua/Wei Peiquan)