Watch Video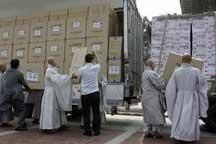 Play Video
South Korea says it will offer 5 thousand tons of rice and 250 thousand bags of cement for flood victims in the Democratic People's Republic of Korea.
Seoul's Red Cross made the announcement in a press briefing on Monday. The aid will be delivered to the DPRK's northwestern coastal city of Sinuiju, which was hit hardest by torrential rains and floods.
Earlier this month, the DPRK had asked South Korea for rice aid. The Red Cross is a main channel for humanitarian cooperation between the two sides.
It also proposed holding inter-Korean talks on reunions for separated families this Friday in the border town of Kaesong.
Editor:Zhang Pengfei |Source: CNTV.CN