Watch Video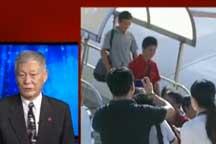 Play Video
After China's repeated solemn representations, 14 Chinese fishermen illegally seized by Japanese authorities have flown back to east China's port city of Fuzhou. However the captain of their boat is still detained by the Japanese side. Full Story>>
Now let's pick up on the Chinese fishing boat collision incident with our current affairs commentator Gregory Yingnien Tsang.
Q1: Though the fishermen have flown back to China, the captain of their boat is still detained in Japan. How will the incident develop, in your opinion?
Q2: What else do you think should be done by both sides to prevent their ties from deteriorating?
News Review: Diaoyu Islands incident
Time: 10:15 am, September 7th

Location: Waters off Diaoyu Islands

Incident: Chinese fishing boat Minjinyu collided with the 1,349-ton Japanese patrol boat Yonakuni and then with another patrol boat, the Mizuki in waters some 12 kilometers northwest of the Diaoyu Islands.
Development of the incident:
September 10th: China decided to postpone a negotiation with Japan on the East China Sea issue
September 10th: Chinese fishing boat captain was detained and brought to local court.
September 8th - 12th: China summoned Japanese ambassador three times and repeatedly lodged solemn representations and firm opposition
September 8th: Japanese Coast Guard seized a Chinese fishing boat in the waters off the Diaoyu Islands.
---------------------------------------------------------------------------------------------------------------------------
China's reaction and stance
Chinese State Councilor urges Japan to make wise political resolution
Dai warned Japan not to make a wrong judgement on the situation and urged it to make a "wise political resolution" and immediately release the fishermen and return the boat. Full Story>>
Chinese FM demands immediate release of Chinese fishing boat and captain
China's Foreign Minister Yang Jiechi has summoned Japan's Ambassador, Uichiro Niwa, to lodge a protest over the illegal detention of a Chinese fishing boat and its captain near the Diaoyu Islands. Full Story>>
Chinese Assistant Foreign Minister summons Japan's ambassador
The ministry has demanded that Japan release the detained Chinese ship and crew members and guarantee their safety. Chinese Assistant Foreign Minister Hu Zhengyue summoned the Japanese ambassador, Uichiro Niwa, on Wednesday to lodge the protest. Full Story>>
Chinese FM: Japan's handling absurd, illegal, and invalid
The Chinese government has demanded Japan release the ship and crew members, who have been detained by its Coast Guard near the Diaoyu Islands since early Wednesday. Full Story>>
Chinese FM spokeswoman Jiang Yu:
"The Diaoyu Islands and their adjacent islets have been Chinese territory since ancient times."
"China will never accept Japan applying its domestic laws to Chinese fishing boat operating in that area. Such handling was absurd, illegal, and invalid."
"If not handled properly, the incident will seriously undermine the general situation of China-Japan relations."