Watch Video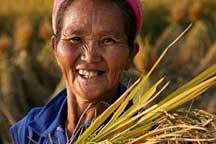 Play Video
Since global leaders established the Millennium Development Goals a decade ago, China has made rapid progress in achieving many of the targets. The country has also helped other developing countries achieve the targets by building strategic global partnerships.
The eight international development goals were established in 2000 at the Millennium Summit in New York. World leaders pledged to do their utmost to attain the goals by 2015.
They include eradicating poverty and hunger, lifting education standards, combating deadly diseases and ensuring environmental sustainability.
According to UN reports, global progress on poverty reduction was spurred by China's efforts to eliminate hunger. The country has already achieved the target of halving extreme poverty from the 1990 figure of 85 million. Poverty rates in China are expected to fall to around 5 percent of the country's population by 2015.
Many of the MDGs were already achieved by China more than a decade ago, including boosting primary education enrollments. In 2003, China's female-to-male ratio was 88-to-100 in primary education, and 89-to-100 in secondary education.
Gender equality has been promoted in China for decades. In 2006, women held more than 20 percent of the seats in China's top legislature, the National People's Congress.
In the area of health, mortality rates for children under five dropped from 61 per thousand births in 1991 to 25 in 2004.
The maternal mortality ratio also decreased sharply from 89 per hundred thousand live births in 1990 to 51.3 in 2003.
The central government has supported international development cooperation as a means of narrowing the gap between developed and developing economies.
China has played a leading role in helping fellow developing countries achieve MDG targets. It has also advocated building closer cooperation with Africa, Arab nations, Pacific Island countries and the Association of Southeast Asian Nations.
China has offered massive debt relief to 50 of the world's poorest nations and imposed a zero-tariff policy on 95 percent of commodities from Africa's most underdeveloped countries.
Related stories
Editor:Zhang Ning |Source: CNTV