Watch Video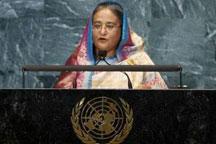 Play Video
The Prime Minister of Bangladesh is calling for more representation for Bangladesh in UN peacekeeping missions.
In a speech to the UN, Sheikh Hasina says her country has made great effort in peacekeeping missions, including sending nearly 10-thousand peacekeeping troops on over thirty such missions since 1988.
Sheikh Hasina, Bengali Prime Minister, said, "Our present troop contribution has made Bangladesh number one among UN peacekeeping troop contributing countries. Sadly, despite these involvement, our presence in the Department of Peacekeeping Operations remains negligible, as is also our voice in planning strategies of peacekeeping missions. Therefore, in all fairness, this calls for our proportionate representation in the DPKO."
Hasina also warned of the serious impact of climate change on her country. She says Bangladesh is the worst victim of climate change and global warming. Hasina says more floods, cyclones, droughts, and other natural disasters are creating havoc in her country.
Editor:Zhang Pengfei |Source: CNTV.CN