Watch Video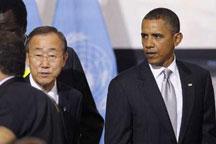 Play Video
Sudanese officials are asking world leaders at a high-level UN meeting for international support to maintain peace, as they near a critical independence referendum on the nation's south. The measure is likely to split the Africa's largest country into two separate states.
The 2005 peace agreement that ended a 21-year civil war pitting Sudan's mostly Muslim north, against its predominantly Christian and tribal south, set up a unity government in the nation's capital, Khartoum, as well as an autonomous administration in the country's lower half.
The accord also calls for a 2011 referendum on southern independence.
UN Secretary-General Ban Ki-moon and other leaders are addressing concerns that preparations for the January 9th vote are lagging behind, while urging a timely and peaceful ballot, to ensure any possible transition goes smoothly, and does not ignite a new conflict.
Ban Ki-moon, UN Secretary-General,said, "The people of Darfur have suffered too long. The security situation in Darfur remains a grave concern, particularly as it affects civilians and internally displaced persons."
Barack Obama, US President, said, "What happens in Sudan in the days ahead may decide whether a people who have endured too much war move towards peace, or slip backwards into bloodshed."
Parties from both northern and southern Sudan are also calling for international support.
Ali Osman Taha, Sudanese Vice President, said, "Needless to say, we need the full cooperation of the international community, rather than its antagonism, if lasting peace in country is to become a feasible hope."
Salva Kiir Mayardit, Southern Sudan Leader, said, "Now, as the greatest moment of our history approaches, it is up to all of us to ensure that the referendum is conducted without delay or reservations."
In addition to the independence referendum, residents in the oil-rich central region of Abyei are scheduled to vote on whether the area should stick with Sudan's Arab-dominated north, or become part of a potential new country in the mainly Black African south.
Editor:Zhang Pengfei |Source: CNTV.CN