Watch Video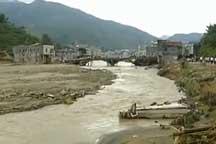 Play Video
Maoming is the city hardest-hit by the typhoon in Guangdong Province. Sixty-six people died there and 53 are missing. Another 517,000 people are affected. In Qianpai town, which belongs to Maoming city, the situation is serious.
The town was hit by an intense downpour. The river spilled over its banks, destroying houses and other buildings. The flood has caused casualties and disrupted electricity as well as the supply of clean water. Right after the disaster, city officials began relief efforts, setting up temporary shelters and ensuring people's health and safety.
Wu Liye, chief of Civil Administratuin Bureau, said, "The disaster victims in Xinyi city are 350,000. More than 5000 are receiving help from the local government. We established 20 temporary shelters, some in schools, some in houses for public use, and some in tents. Now they are well arranged and their situation is stable."
Related stories
Editor:Zhang Ning |Source: CNTV